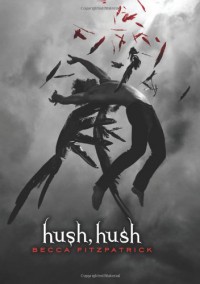 From what turned from months to weeks to days I have been staring at this book every time I go into the bookstore, just staring at the lovely cover and I finally broke down and bought it. I couldn't resist. I have heard many mixed reviews on HUSH HUSH hoping to hell that I would like it and guess what I did enjoy it immensely and I am in love with all things angels.

Fallen angels is a wonderful topic to write about for Fitzpatrick and I am so glad that she did. After finishing HUSH HUSH I hunted down every angel book book I could find in the paranormal romance/urban fantasy genre. I am addicted. There is just something about fallen angels that attracts me to them, but then again it may just be Patch.

I really enjoyed the concept of fallen angels that Fitzpatrick has come up with. This book was a real page turner and also a bit scary for me at some certain parts. I like the part where Patch is the ultimate bad boy who has a mission of his own. TARGET: NORA GREY. And also where he ends up falling in love with her.

Patch is so cocky and dangerous and I just love that in a character. If you know me you know just how much I love it when a man has that dangerous and mysterious feel about him. There is still so much we don't know about Patch and I hope we get more about his past in the next book and also about Nora, she is also a bit of mystery, and when I say mystery I say her heritage.

I love the relationship between Patch and Nora and I am really interested in where it will go from here. Nora has been having trouble accepting her feelings for Patch and Patch is just beginning to see that he is actually falling for this girl. I am so interested by this relationship. Patch is the ultimate bad boy and the scenes when Nora and Patch are spending time together are too funny. Patch seems to always have something to say that makes me laugh.


"You smell good, too," said Patch It's called a shower." I was staring straight ahead. When he didn't answer, I turned sideways. "Soap. Shampoo. Hot water." Naked. I know the drill."

I loved this book. Exciting plot, intriguing characters, beautiful romance. This story is much darker than I am used to but I loved the dark aspect of it. I feel HUSH HUSH is a book every young adult paranormal romance fan should check out, because I really think they would enjoy it. I am curious to see where Fitzpatrick goes with this story and what will happen next in the next book, Crescendo.


More of my reviews at Mystifying Paranormal Reviews